Feminine Echoes at the Prested Tournament: A Captivating Immersion Between Competition and Camaraderie
Between November 3rd and 5th, the Prested club was buzzing during a women's handicap tournament that warmly welcomed 8 French players. With notable performances, a warm atmosphere both on and off the court, and a well-deserved victory, this tournament turned into a "2nd French Open" at Prested, as humorously remarked by the mascot Bernadette Bidouze during the Saturday night dinner.
This competition offered an unforgettable experience to seasoned players such as Amy Wintersteen (Bordeaux), Bernadette Bidouze (Bordeaux), Jeanette Guardia (Bordeaux), Cécile Alchuteguy (Bayonne), and Florence Bilhere (Bayonne), as well as newcomers Chantal Guennec (Fontainebleau), Typhanie Guerin (Bordeaux), and Emmanuelle Julié (Bordeaux). Playing on different courts and sharing the court with players of varied styles created a unique atmosphere, fostering exchange and self-improvement.
The results of the French team were remarkable. Bernadette Bidouze, along with her English doubles partner Kate Eevers, won the 1st division doubles, demonstrating perfect synergy on the field. Additionally, newcomer Typhanie Guerin and her partner reached the semi-finals of the 2nd division, making a significant performance.
This tournament will remain in our memories as a celebration of women's Real Tennis, blending competitiveness and camaraderie. The players, whether experienced or novice, contributed to making this event an enriching and memorable experience. Long live women's Real Tennis, a passion that transcends borders and unites players in a unique sporting adventure!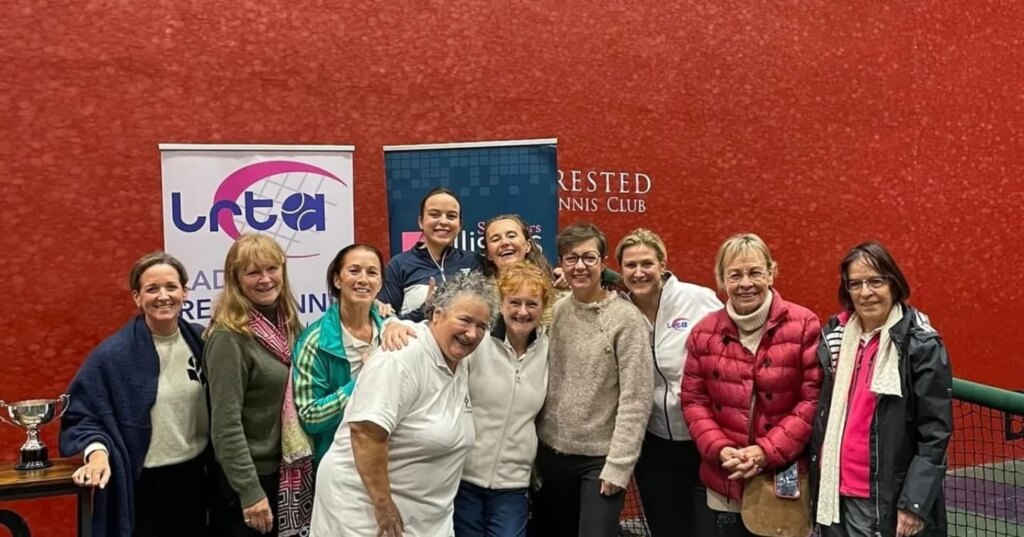 From left to right: Amy Wintersteen, Gabrielle Smart, Florence Bilhere, Lea Van Der Zwalmen, Emmanuelle Julié, Bernadette Bidouze, Jane Taylor (UK), Typhanie Guerin, Cécile Alchuteguy, Jeannette Guardia & Chantal Guennec.